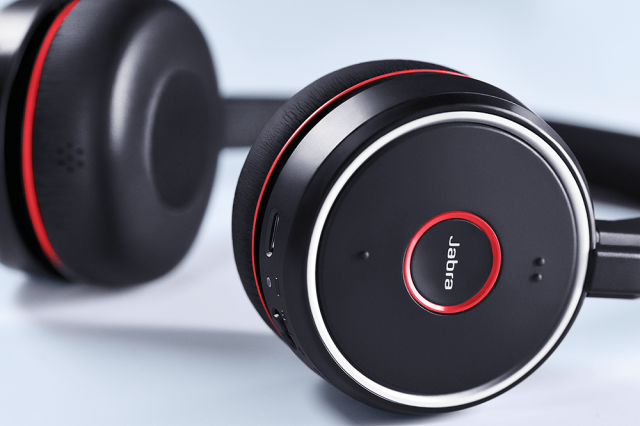 The Jabra Evolve 75 office headset – the wait is finally over.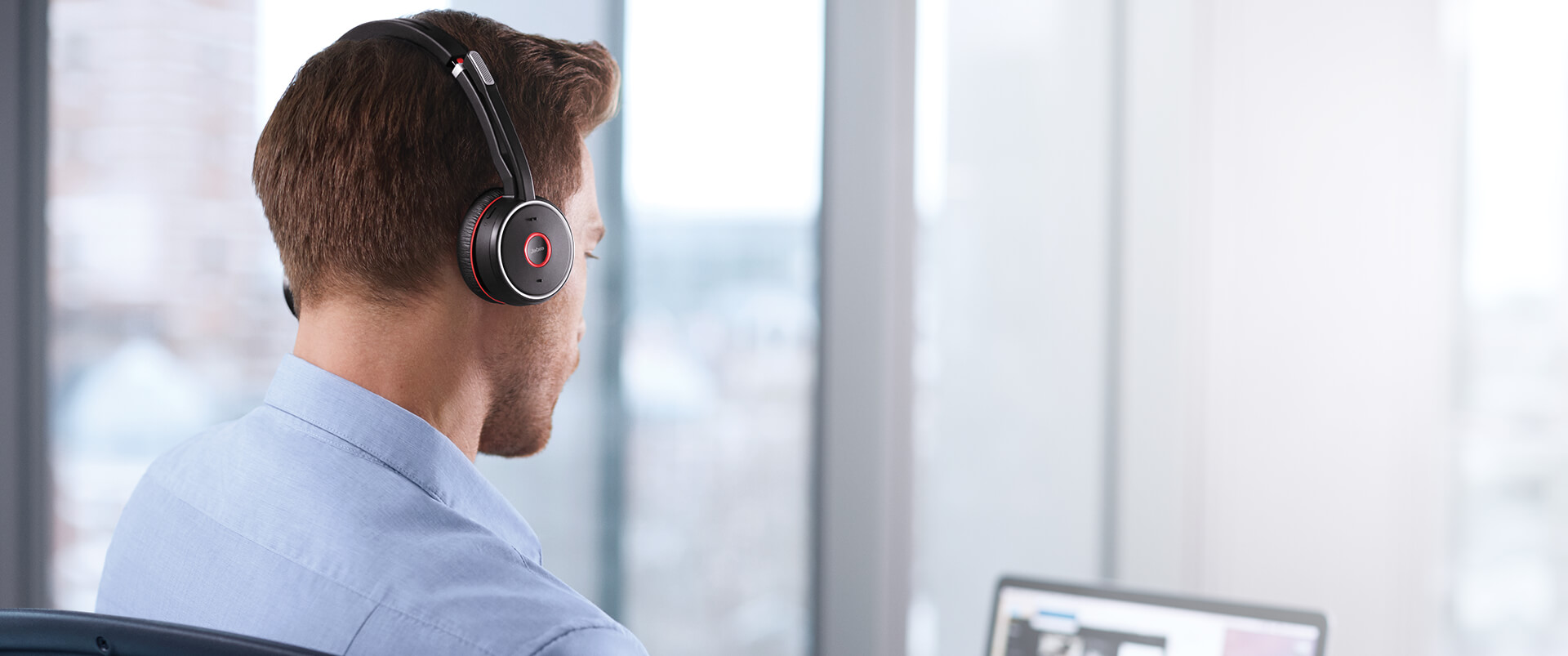 Described as "The best wireless headset for concentration in the open office" by the Jabra team, it's not to dissimilar to the Jabra Evolve headsets, high quality for all day use, comfortable, even for people with glasses and with sound quality so amazing if you use it for music, you will be highly rewarded.
There's a wide range available including UC (Unified Communications) and MS (Microsoft Skype). Basically order a UC version if you want to use it with your PC or laptop via USB, or MS for your deskphone/mobile phone (3.5mm jack)
Superior active noise cancellation and more…
The 75 is physically quite similar to the Jabra Evolve 80. It does however carry with it a higher spec including a substantial active noise cancellation upgrade and larger, more padded cushions for what they describe themselves as "superior comfort."
However unlike previous models, this prestige new design has four microphones with the said active noise cancellation (ANC) , making it possibly the best yet for such purposes. It has also been optimised for Skype for Business (MS versions only) making it a useful headset for a busy, modern workplace environment. To clarify, the 75 is a far superior and higher end headset with improved similarities to its older cousins.
Outstanding sound for calls and music
Words from the manufacturers themselves – and we completely agree. But again, much of the other Evolve headsets are designed with this in mind and generally even a Jabra Evolve 40 does a good job of switching between calls and music. The 75 is a larger, more comfortable and more upgraded model which has certainly taken the lead in noise cancellation technology.
Key Features
• HD voice for crystal clear calls and music
• Superior Active Noise Cancellation (ANC) and an integrated busylight to boost productivity by reducing noise and interruptions
• Wireless range of up to 100 feet from your laptop and 33 from your smartphone
• Flexibility to connect two Bluetooth devices at the same time for calls and music – for example, both a computer and a smartphone
• Integration with leading UC platforms including Skype for Business and Cisco
• Up to 15 hours of battery life
• Leather-feel ear cushions and an on-the-ear wearing style for all day comfort
• Discreet boom-arm that can be clipped into the headband when not on calls
• Easy-to-reach button on the ear cup that allows users to hear announcements without removing the headset
• Easy charging and docking comes with an optional charging stand to eliminate battery concerns
The headset is the latest addition to the successful Jabra Evolve series, which has sold more than 2.5 million units worldwide. The range was developed to reflect the way people work and enable focused and distraction-free performance in open office settings.
As stated on their site, "The Jabra Evolve 75 takes this promise to the next level by combining the strongest parts of the Evolve range: wireless freedom, great sound, ANC and a busy light."
The Jabra Evolve 75 comes equipped with world-class speakers for music and high-definition (HD) voice for crystal clear calls. Dual Bluetooth connectivity supports calls and music by allowing the user to simultaneously pair the headset with two connected devices, such as a computer and smartphone.
Recent research from Jabra found that knowledge workers lose 24 minutes each day due to noise and interruptions, while 78 percent believe their productivity is negatively impacted. The Jabra Evolve 75 is the ultimate business tool for sound and freedom, helping workers collaborate, concentrate and remain productive in busy, open place offices without the need for designated quiet rooms.
"The premise behind the open plan office is to foster collaboration and improve communication among employees. But despite their many benefits, they have become breeding grounds for unsatisfactory labour output", commented Holger Reisinger, SVP, Jabra Business Solutions.
"Interruptions from colleagues and the noise generated in these environments are negatively impacting workers and contributing to lackluster performance. Increasingly, knowledge workers are being forced into isolation to do their jobs. The Jabra Evolve 75 provides businesses with an alternative solution to support an open office philosophy that's conducive to better performance."
Technical Details
Speaker bandwidth communication mode – 150Hz – 6.8kHz
Speaker bandwidth music mode – 20Hz – 20kHz
Microphone frequency range – 150Hz – 6.8kHz
Charging time – 2.5 hours
Optional charging stand
Speaker volume control on Headset
Speaker size – 40mm
Headset Weight – 177g
Talk time – Up to 15 hours
Battery time (with ANC activated) – Up to 30 hours
The Jabra Evolve 75 is available from PMC Telecom today.
Summary
Reviewer
Review Date
Reviewed Item
Author Rating





Product Name
Price
Product Availability