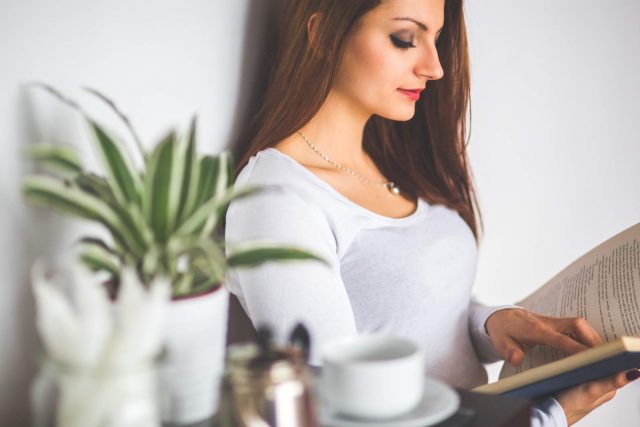 How I Optimised a landing page in 2016
…and here's my exact thought process & some information you will find useful when starting your own Landing Page Optimisation journey.
Googles's algorithms are evolving & updating all the time. A landing page perfectly optimised 5 years ago, may not be the most optimised page in the world anymore.
With such tools & updates such as Hummingbird, Semantic Search & RankBrain your pages have to go further than the information on the page, and your pages have to fully embrace user intent, user experience & ….. well the user themselves! – As SEO's historically we make pages for search engines, and still do.
But we need a shift in the way we go about ranking a page, those that don't will be left behind.
But we need a shift in the way we go about ranking a page, those that don't will be left behind.
Luckily, I am an SEO manager, and I'm about to undertake just that, and you can follow my progress. So if I fudge this one up, you know I did it wrong 😉 – But realistically your going to see some absolutely fantastic results and it will hopefully inspire you to make some great improvements for your clients landing pages, honestly, it's not that hard.
PMC Telecom – A Live Example Of Landing Page Optimisation
The Methodology:
Do some research on our current landing pages. Find out which generate the most revenue, and which can be improved.
Define our users into groups, find out what they are looking for when they land & how often we are able to improve on what we deliver what they want.
Design the new page(s)
Getting the new work done!- with the help of a creative agency
Check all On Page Optimisation to ensure it is on point, and the page rankings will be preserved
Implementation on current site
A/B Split testing & Promotion*
Panic – Don't screw this up Google
*As the current page is so bad. There will be no A/B split testing as I fully intend to further optimise this page again in the future.
Step 1: Checking Out My Clients Landing Pages
When taking on new clients, I really do find stuff which is literally like finding money. When you get to know a company, and you really get under the skin of their website, you can find absolutely massive errors & pages which could do SO much better.
This is an extreme example we undertook recently – with the help of creative agency Supremo.tv – which was a pretty cool collaboration as I was unable to do all the work on my own.
The problem: A "page" on the PMC website is poorly optimised for 2016, It has basically, 2 options: "Analogue Multi-Line Systems" and "Analogue Multi-Line System Package deals" In addition to some old products.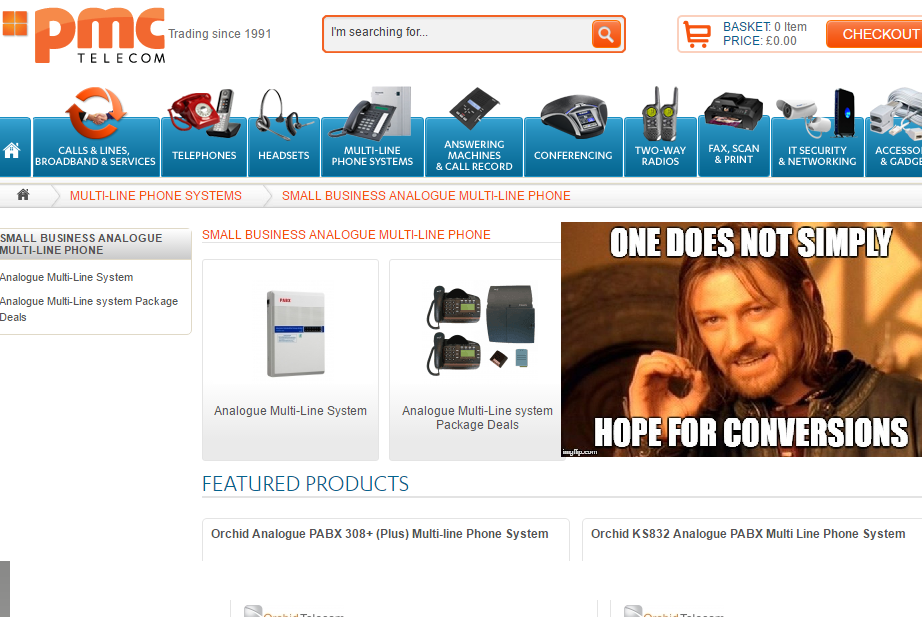 Honestly, I didn't even consider this page remotely important when looking at the website at first.
Then I looked at analytics:

So I checked the keywords it ranks for, to name a few:
"Telephone Systems"
"Business Telephone Systems"
"phone systems for small business"
"Office Telephone systems"
In actual fact, it ranks for quite a few highly competitive keywords – I know PMC does do a good job of selling telephone systems, but come on, how is that page so highly ranked?
Step 2: Define Customers Into Groups
When doing landing page optimisation, it's vital that you are able to get into the mindset of your customers. If you are able to do this, you can more accurately predict what they require from your landing page, and you can work towards giving them that – as that's a great way to optimise for conversions.
Defining Your Customers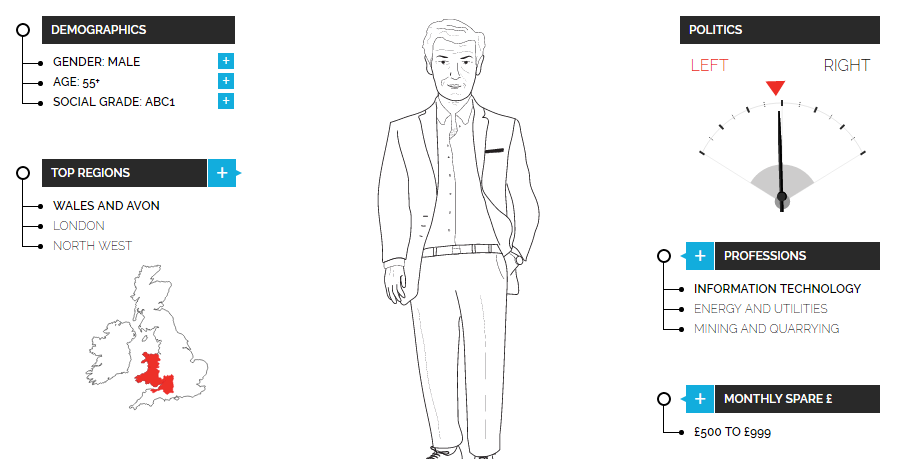 Many agencies utilise Yougov.co.uk as a source of information for their clients. Personally, I'm not a fan, I can see why you would use them when dealing with a new client, but really you should be involved enough with your clients business to have a really strong grasp of who their target demographic is. That aside, according to YouGov I am supposed to be targeting:
Men
Age 55+
From Wales
Have no political views
Work in IT & Mining/Quarrying
Have around £999 spare, per month
Interested in DIY, Model Building & Chess
Play basketball &/or Sailing
Most likely to have a bird
Sophisticated & Risk takers
Arrogant
Customers of Intel & Screwfix
Wear Firetrap & Timberland clothing
Shops at the co-op
They all drive Audis
Their favourite TV show is "James May's Man Lab"
Favourite website: SoundHound (I don't know what that is either)
They read the Daily Star & New Scientist Magazine
They are online, for 36-40 hours a week (+Watch TV for 20 hours…)
Favourite TV shows: American Dad! Futurama & Football
….so basically, this guy: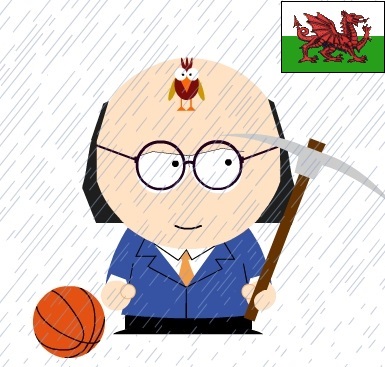 Or a male Catherine Zeta-Jones.
As you can see, though YouGov profiling is fun it isn't really useful enough yet. I think it will be an invaluable resource in the years to come, but for right now – I would prefer to get to know a company and its customers myself. Working client side, I have a huge advantage here, and I appreciate we don't all have that luxury. But that's no excuse.
Fun Fact: Not one person at PMC Telecom is Welsh, above 55, and nobody has an Audi 😉 (But I do spend 40 hours a week behind a PC…)
Our actual customer profiles are split down into 3 categories for this page based on the keywords people click, the CTR, conversions & Google analytics demographics:
Customer 1: "Googles "Office Telephone systems" – this person is looking for a suitable phone system for their business (Or works at the business) – They are unsure which to go for.
Customer 2: A person who is slightly more clued up, and is specifically looking for a non-VoIP phone system. But they do not know the benefits of VoIP (This is quite common)
Customer 3: Works at a large call centre, or similar and needs a specific piece of kit, they can find what they need, and have a high buying intent.
Customer 1, You can see how it's very likely this person will bounce. As the current landing page will make no sense to them.
Customer 2, is less likely to be scared off, but as they know what size system they need etc, the page really needs to make it easier for them to get the right system first time. Further to this, on a competitors site, they could be tempted in by a VoIP option, which is not even on PMCs page at all.
Customer 3, the least likely to bounce and the highest conversion, however, as there is 2 ambiguous options currently, they could easily click the wrong one and be lead > down > a > rabbit > hole.com – encouraging them to hit that back button faster than Matt Cutts on a dodgy SEO blog.
Step 3: Design Phase*
*Disclaimer: I realise a lot of highly qualified SEOs read this, and you may criticise me here for my lack of A/B split testing/Use of heat-maps & general UX. I have my reasons for doing it this way and you you want to question my methodology i'd be happy to discuss in the comments/on Reddit/Via email. Also if your site is built on a more modern platform than ours, you really should be using landing page optimization software.
The first thing I need to do, in terms of optimising the page for users, is to get everything we need in one place. I did research of the top 10 pages in the SERPs for my target keywords, and compared them to see what kind of correlations I could implement onto our own site.
They all had in common – All the phone systems, in one place, and abundant "contact us" call to actions. They don't however have the exact hardware available, I wanted to include both of these in our new page, to be sure I covered all three of my customer profiles. So I made a list of what the page needs
Clear, simple options of product options (A-C)
The original options for the customers who know what they want (G & H)
Cross selling opportunities (C+D-F)
Clear call to actions: (I+J)
Spider Food (To ensure Google considers it the same page)
So I came up with this (amazing) diagram: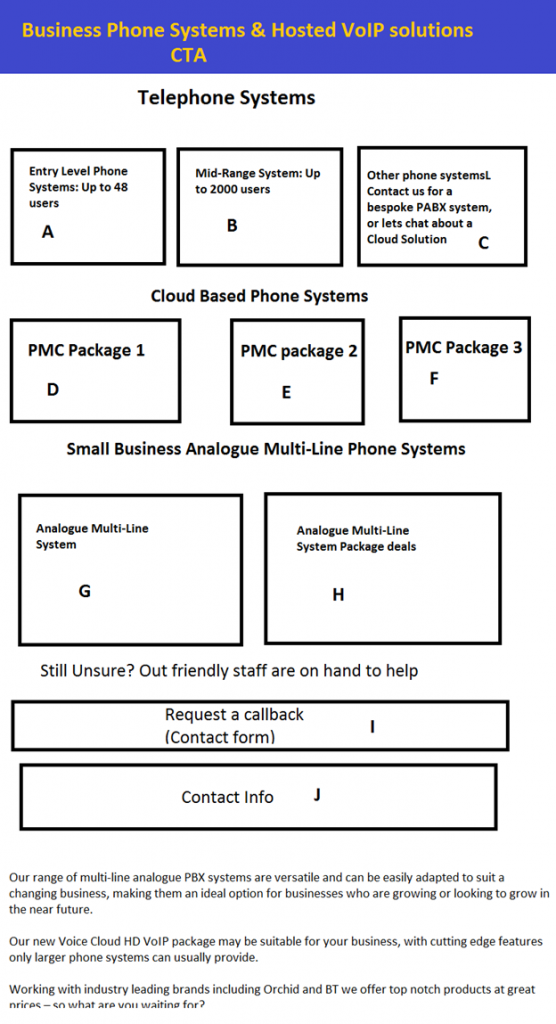 You can see we are really getting somewhere.
Customer Flow & UX
It's really important to find out how your customers behave on your site. How they expect to get around, and you want to be sure they end up, where you want them to end up.
In this case, we had to carefully plan for all eventualities, ensuring regular customers can still get to exactly where they want, and helping guide newer or customers who are slightly less informed in regards to telecoms – if a customer is unsure, i'm happy to lead them to a friendly contact form. So, I made a map: (Once again, you can see my insane graphic design skills coming out)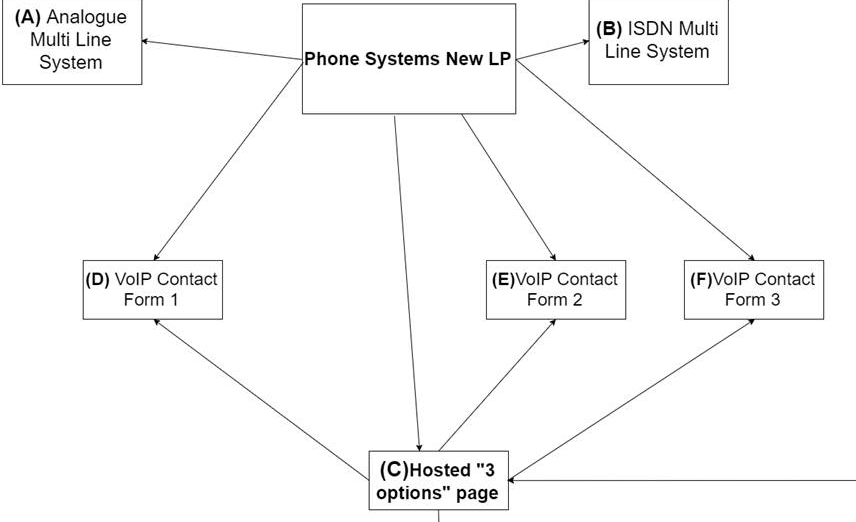 It may be hard to tell with the above, but it just ensures I know there is a place for each customer to go to, after they land on my landing page, and most importantly, it helps them massively, and improves the customers experience, which invariably – contributes to SEO.
Step 4: Lets get it done!
The cool thing about SEO, is it's such a huge umbrella, nobody can be truly skilled at all aspects. So that's where sometimes, you need help. If you work at an agency, you will generally have everybody you need around you, when you work client side, this isn't the case.
For example, i'm happy for the readers to laugh at my diagrams above. But this doesn't mean those designs aren't usable. It doesn't matter who you are, or what your budget is, you can make better use of your landing pages .
It doesn't matter who you are, or what your budget is, you can make better use of your landing pages
So moving forward, if your at an agency your in the perfect position to get this done, if not, your going to need to make a list of things you can't get done, and then go to somebody who can help you. In our case I enlisted the help of a PMC employee with some photoshop skills to get my very rough draft to a tangible stage.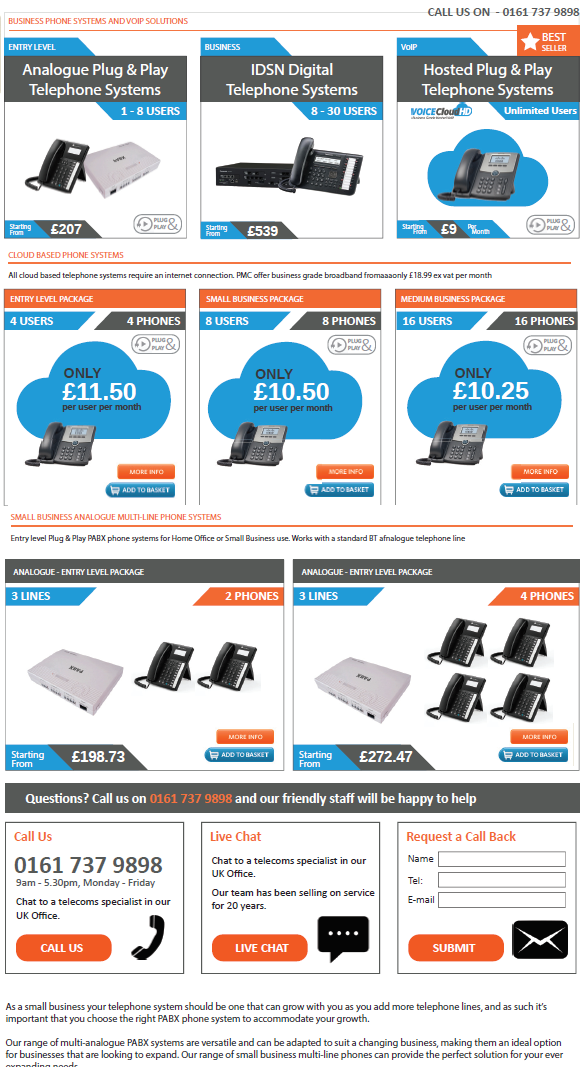 Now, we're getting somewhere… I next requested the help of Supremo.tv – one of their staff came highly recommended to me, and apart from them forcing me to use basecamp project management to organise it, they were fantastic (Sorry guys, I like using emails for smaller projects!)
I fully briefed them on the objective, gave them our designs, and Voila, our official first draft: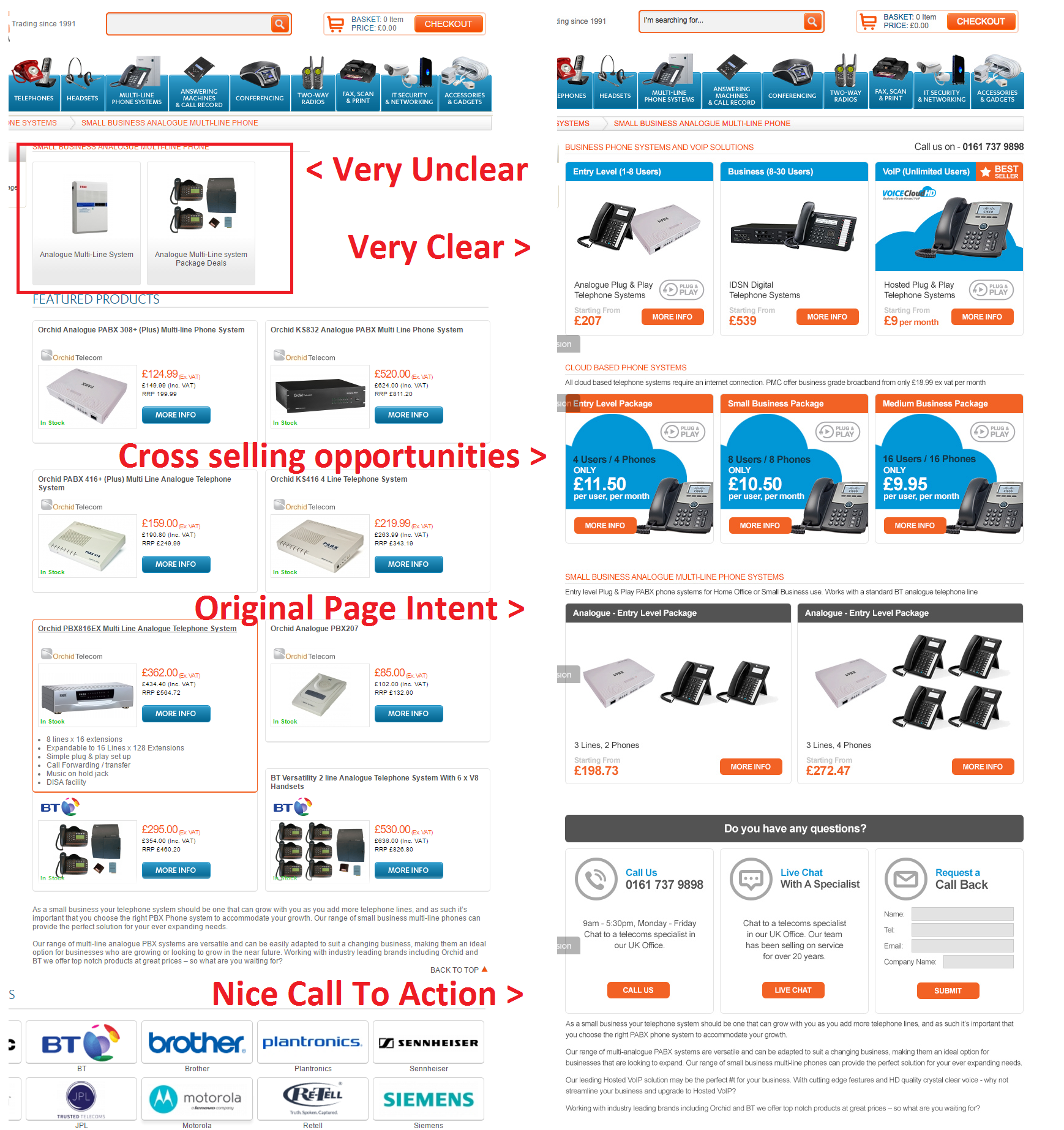 Step 5: Optimization the little things (Title Tags, Metas, SEO isn't dead etc)
Last job for now, ensure the on page SEO is on point. Now as mentioned, this particular page already ranks for some great keywords, and the fact the page is now 10x more useful for current + new customers, I highly expect to gain some organic positions from that.
But, you have to be careful. Change too much and Google is going to think its unrelated to the old page. Because of that, I have made some small, but basic changes, just to ensure I'm taking minimum risks.
Optimised Title Tag + Meta description to increase CTR on the SERPs
Kept the footer text almost exactly the same, but added a sentence referencing the new option on the page
Kept the new H1/H2 tag as near as I could to the old ones
Redirecting the old page, to the new page
Step 6-9: Promotion, Don't screw this one up Google & Results
Next up, usually I would split test a few versions of the new landing page, and plan some promotion around it.
In this case, I am not doing A/B split testing (I'm just not. As mentioned, feel free to send me hate mail) – I will be doing some adwords for the new products. But I'm keeping that under wraps until the results of this project are out.
Final note:
Google Do Not Screw This One Up Please
This page, is more helpful to my users. Still, a small part of me is terrified Google is going to take this out of the SERps, or re-rank it all together. Everything I know about SEO tells me this will not happen – But, you can never be sure with Google, after all, they have no idea what they are doing
And yes.. Finally you can have the link to the page: https://www.pmctelecom.co.uk/multi-line-phone-systems (Depending when you look at this link, it will be the old, or the new version. New version expected 29th of June 2016, feel free to use wayback machine to check out older versions after this date)