Finding a good quality corded telephone for your business or home office need not break the bank. We've picked out three of the best telephones here that all plug into a standard BT landline socket and have many of the features a small business or home office worker might need for regular use, whether that's the Caller ID, Speakerphone, Speed Dial, or the ability to plug in Corded Office Headsets, we've got you covered here with three of the very best corded telephones on the market today!
BT Converse 2300 – Corded Office Telephone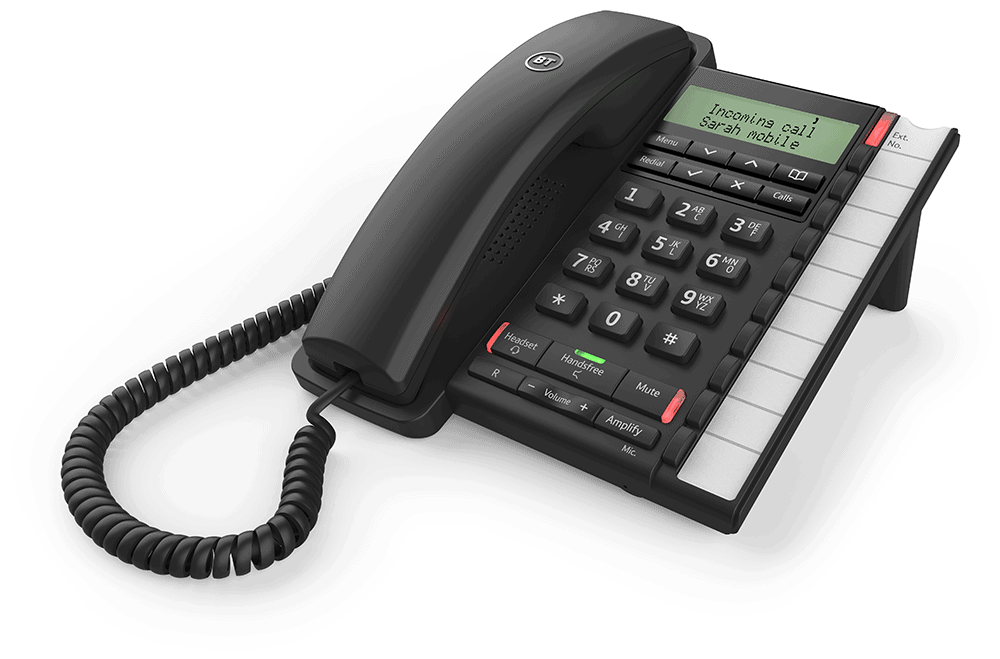 Highly recommended.

Tech-Mag
For such a feature packed telephone from one of the best known brands on the market, the BT Converse 2300 is infact a very cost-effective corded office phone. It has almost everyting any regular telephone user would need to keep them working smoothly and efficiently.
The Converse 2300 build quality is excellent and all the features are easily accessible from its clearly labelled menu system. The speakerphone is crisp and clear and there's also an RJ11 headset socket so that users who need their hands free for regular phone use have that option also. The display is nice & bright and the 10 one touch speed dials are chunky and easy to label.
There's lots of lighting indicatiors on the Converse 2300 which we like, headset, handsfree mute and ring indication are all clearly labelled so we always felt like we know where we stood when using this phone, there was no flapping about if we'd switched on the speakerphone and neded to switch it off. It's all very intuitive to use.
Overall the BT Converse 2300 is our pick of the bunch. You do pay that bit extra for the BT brand, but their design team have got almost everything right with this phone. We honestly couldn't find fault with it! Maybe if they'd added a cup holder?
The BT Converse is available in Black and White
Key features of the BT Converse 2300:
Headset socket – RJ11
Backlit display
Caller ID
Handsfree Speakerphone
10 one click speed dial buttons
50 no. call log
100 name & no. directory
Visual ring indicator
Wall Mountable
Check out our full in-depth review of the BT Converse 2300 here.
Where to by the BT Converse 2300
---
Agent 1100 – Corded Telephone – Black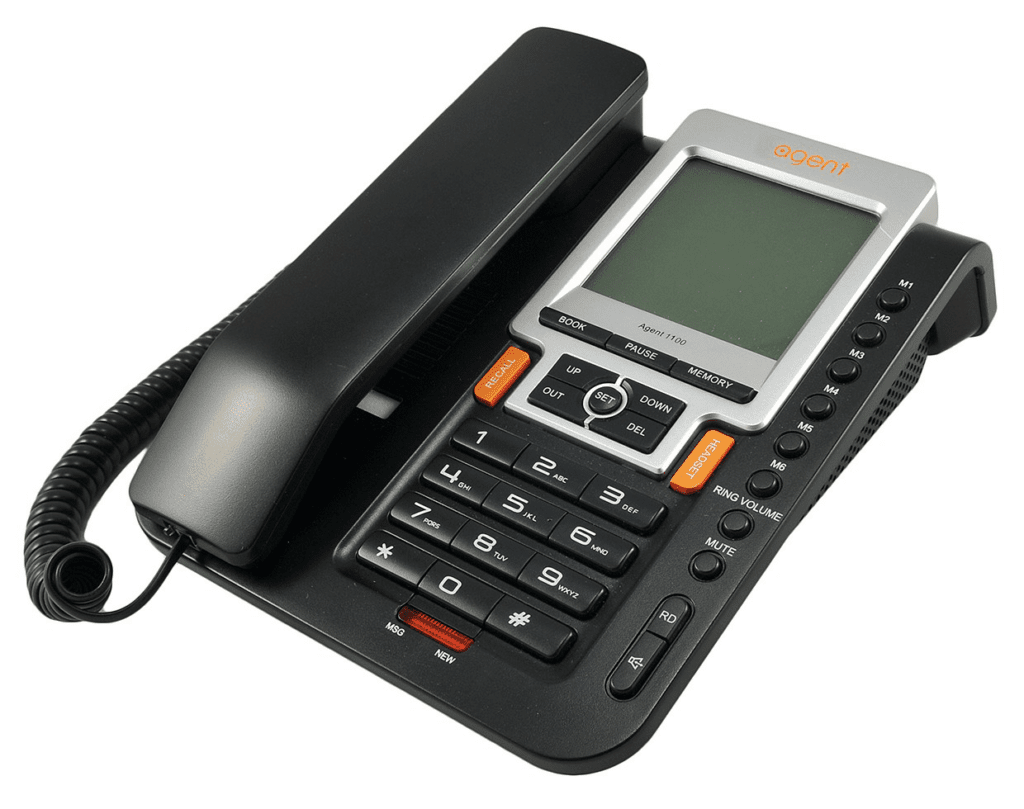 Highly Commended

Tech-Mag
The Agent 1100 elbows its way into the list here as a real upstart, matching many of the features of the Converse 2300 at almost half the price. Whilst the design isn't to everyone's taste, we felt it looked like the control panel of a sci-fi TV show from the 90's, but then, that's kina cool to us, so we like it! The build quality is solid, the buttons are tactile and feel substantial and the display is bright and clear. There's a handsfree speakerphone here, caller ID and an RJ11 Headset socket, so it ticks all the boxes in terms of main basic features.
Performance is good, sound quality is excellent and the menu system is easy to navigate. There's no way to label the one touch speed dial buttons, which is a shame, but with only six available, they're easily remembered.
All in all there's absolutely nothing to stop us from recommending the Agent 1100, it's design may not be to everyone's tastes, but for the price you're getting one helluva desk phone!
Key features of the Agent 1100:
Handsfree Speakerphone
Large LCD Display
Headset Port (RJ11)
Mute Function
4 One Touch Memories and 10 Two Touch Memories
50 Name and Number Directory
8 Ringer Melodies
Where to buy the Agent 1100
---
ATL Berkshire 420 – Corded Telephone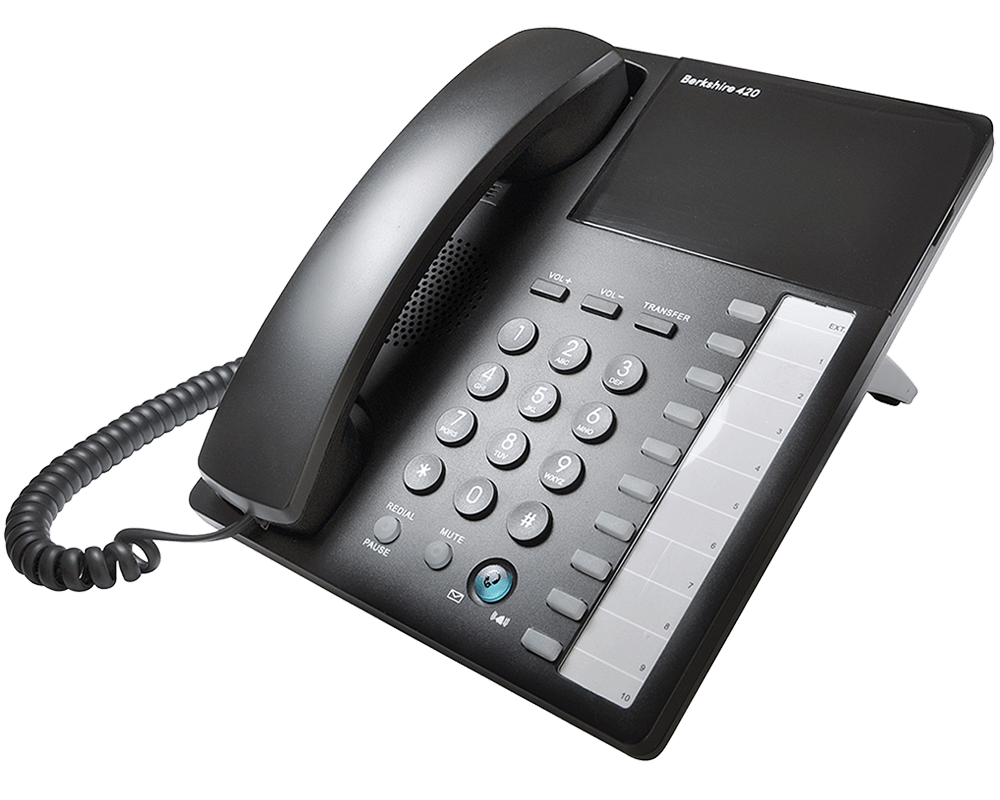 Recommended.

Tech-Mag
The ATL Berkshire line has been popular for years now amongst small and home businesses for their sleek looks and no-nonsense functionality. The latest model is the Berkshire 420 which is as well built and reliable as the models that came before. Sadly, there's no speakerphone here, but there is an RJ11 port for headsets so that busy phone users who need their hands free have that option. We like the 45-degree angle of the phone as it sits on the desk it's particularly easy to see and use the buttons. Build quality is solid and the design is un-fussy and modern with all the buttons being well labelled and well-spaced.
The Berkshire 420 is definitely a good looking phone, almost anynmous in its design which we think could actually suit a lot of situations where a phone is needed, but doesn't need to be front and centre of everything.
10 one touch quick dial memories
RJ11 Headset Port
Hearing aid compatible
Desk bracket
Wall Mountable
Where to buy the ATL Berkshire 420
---
Also available in the BT Converse range
If the Converse 2300 is too feature packed then there are similar options in the BT Converse 2200 and BT Converse 2100, both with the high BT build quality, with a slightly reduced feature set if you're looking for something simpler. You can buy both at PMC Telecom now.
---
More Corded Telephone reviews
If you'd like to know more, our friends over at PMC Telecom have written a further blog which includes corded telephones that are perfect for the home as well as business.
Office Headsets are compatible with lots of the phones listed here. Take a look at some of our favourites.
Summary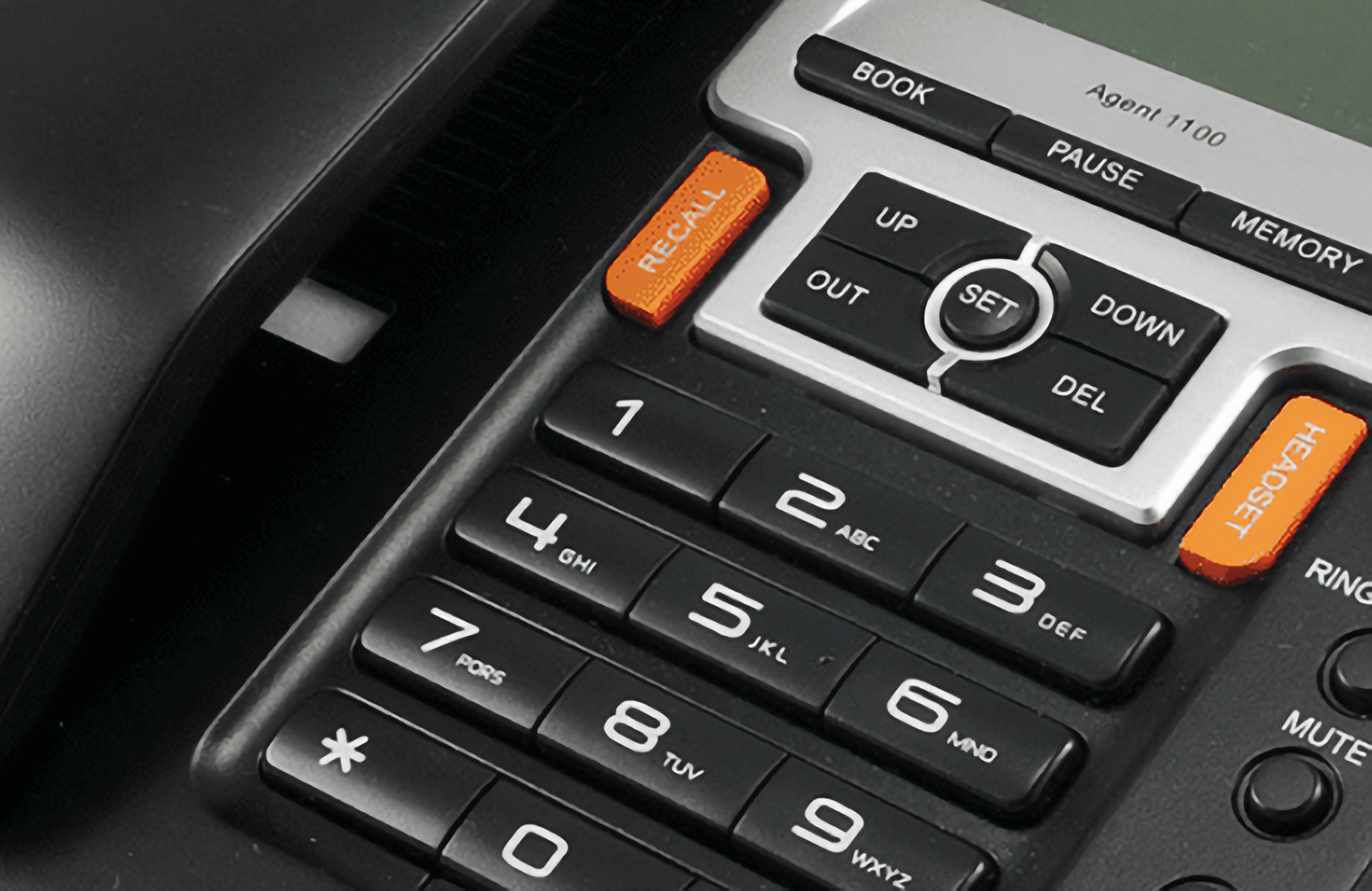 Article Name
Three of the best corded office phones
Description
A review of three of the best office phones available for small and home businesses that plug into any standard BT telephoen socket.
Author
Publisher Name
Publisher Logo