| Skype Headset: | Key points: | Price? |
| --- | --- | --- |
| Jabra Motion UC Wireless Headset | Monaural, over the ear, wireless, solution. | £99: Find here |
| Jabra Evolve 75 | Binaural, premium, top of the range,noise cancelling, wireless headset | From £237: Find here |
| Sennheiser MB 660 | Binaural, cup wearing style, premium build headset. Active Noise Cancellation | £249.99: Find here |
| Plantronics Blackwire C520 | Binaural, hard wearing, great value headset for offices | £59.19: Find here |
| Sennheiser SC230 SFB | Binaural, hard wearing, great headset for offices | £69.95: Find here |
| Plantronics Savi W710 | Monaural, Wireless, High quality, long talk time | £105.00: Find here |
Skype for Business – a cornerstone of modern business communication. Video conferencing, Skype calls, instant messaging, all of these things help to keep us connected and it's a solution which is becoming so widely used, that headsets optimised for Skype for Business has become a booming market.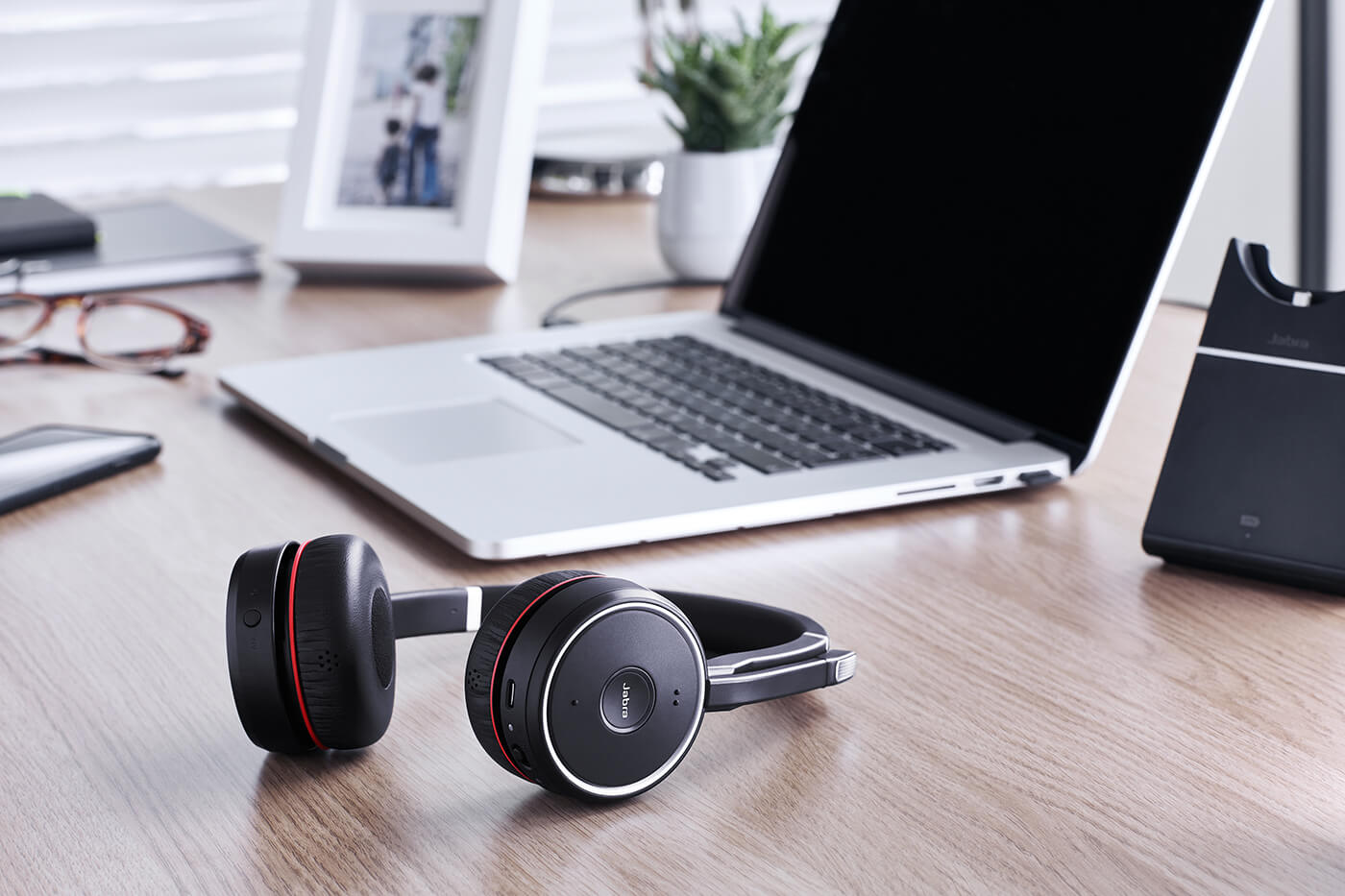 As we know the importance of professional contact, we also know the importance of getting the right, optimised headset which is high quality, easy to use, and most of all, reliable in various situations.
[fancy_box id=1]NOTE: Some headsets may be listed online as "optimised for Microsoft Lync" – this is the same as being optimised for Skype for Business.[/fancy_box]
We have already constructed a useful guide on the best call centre headsets of 2017 – and the best office phones for your business, and we have decided now to round up the best buys for Skype headsets.
From Jabra to Plantronics to Sennheiser, there are a number of options available, and few things to be considered before making a purchase.
Jabra Motion UC Wireless Bluetooth Headset
The Jabra Motion is a very popular choice for wireless office headsets, not least because it has innovative features which beat many others on the market. Built with best-in-class wirless features, calls can be taken anywhere, and it works seamlessly with Skype for Business, whether you are on your smartphone, PC or tablet. Its over-the-ear design is adaptable and stylish, and is perfect for the call centre or home office.
Key Features:
UC Plug in & Play
HD Wideband voice quality
Noise Blackout (Noise Cancelling Microphone) technology
Intelligent volume control automatically adjusts volume to match your environment
Wireless Bluetooth headset that connects to your smartphones, PC softphones and tablets
Jabra PC Suite for updates, settings and call management
Talk Time: 7 Hours
Wireless Range: 100 Meters
Customise the Motion UC using the Jabra Connect App
Find the Jabra Motion UC Wireless Headset here
Jabra Evolve 75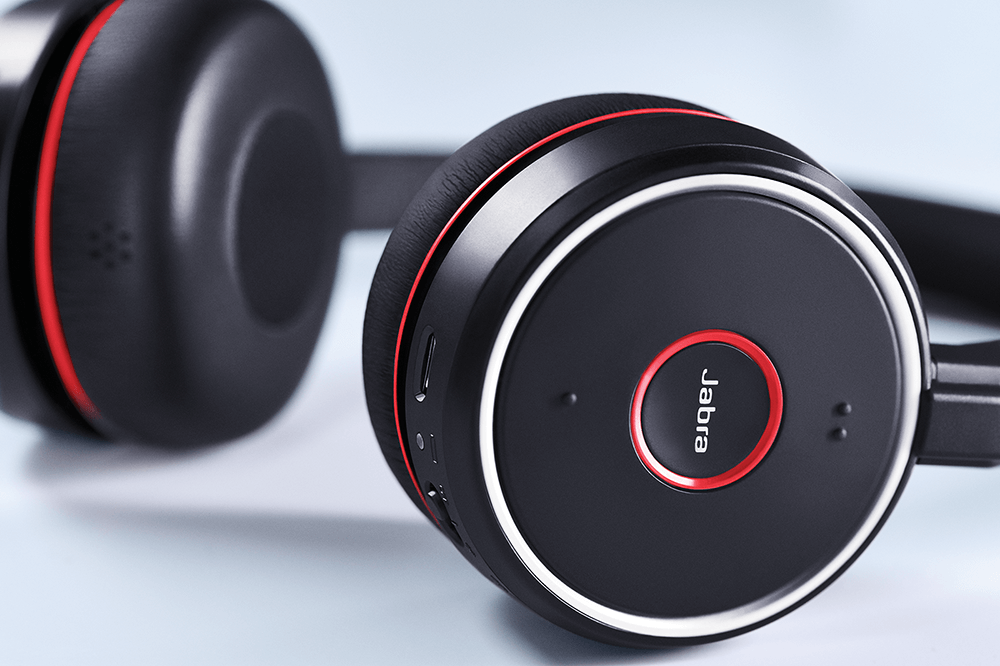 This is a prestige and superior business headset, brand new from Jabra in spring 2017. It's got a heftier price tag than some Skype for Business headsets, but is something of a luxury when it comes to specifically designed office headsets. Luxury, leather feel cushions for comfort, and ultimately a very well designed headset. For more information, read the Jabra Evolve 75 Review from the Tech Mag team.
Features:
Bluetooth connection for mobile phones and tablets
Integrated Busylight – Red lights on both ear cups are
Four microphones with active noise cancellation
Activated automatically when on a call or manually activated by the user when busy, to act as a 'do not disturb' signal
Great sound quality for calls and music
Optimised for Skype for Business (Microsoft Lync)*** MS Version only***
Sennheiser MB 660 UC MS
This is one of the more expensive, business style headsets which is optimised for Skype, and is intended to be high end and highly efficient. The Sennheiser MB 660 is wireless, and an adaptive ANC headset which is designed for knowledge workers demanding business-grade communication in mind. It has adaptive noise cancellation which makes it stand out as better than many others on the market, with a high quality design and the usual, high standard of Sennheiser craftsmanship. It's out there for around £250, but is worth every penny if its features are for you.
Features:
Folding & Storing – easy on/off by turning the ear cups. Foldable design for compact storage
Advanced Own-Voice-Detector – optimises speech intelligibility and reduces distracting background noises
USB cable with micro-USB connector – for convenient charging or using the headset as a wired headset for communication and multimedia
Multiple connection options – adapters and cables included for wireless, wired and in-flight connectivity
Battery time – up to 30 hours* long performance
Sound effect modes – Club, Movie, Speech (preset), Director (default) for a personalised listening experience.
Certified for major UC brands – MB 660 UC/MS and included PC dongle BTD 800 USB are UC certified
Plantronics Blackwire C520
The Plantronics C520, in a nutshell, it a superior sound quality headset which costs much less than some of the others out there. The value for money on this one is very much worth noting. On the market for around £60-70 – and it easily and intuitively juggles PC calls and multi-media using audio alerts to manage connection, mute and volume status. With easy portability, it offers premium hi-fi stereo audio (Blackwire 520) and all-day comfort at your desk or at home. For business use, it's a bargain.
PC wide-band audio with noise-cancelling microphones for high-quality PC telephony
Premium PC audio
Carrying case for easy storage and portability
Smart Sensor technology lets you answer a call by simply putting on the headset
Digital Signal Processing (DSP) provides natural voice sound
Dynamic EQ automatically adjusts audio settings between voice calls and music
Enjoy hi-fi stereo sound (C520) for audio clarity when listening to multi-media
Inline indicator lights and user friendly audio alerts the user to connection, mute and volume status
Innovative, user-friendly design
Sennheiser SC230 SFB
A great mid-high range headset featuring great build quality, a decent mic for background noise cancelling.
Fully Skype for business certified
Sennheiser ActiveGuard included, a premium feature for acoustic and shock protection
Easy name-tagging system – great for busy workplaces
Plantronics Savi W710
This headset has been popular for quite some time. Robust, great wideband audio, and a trusted manufacturer. You can also pick up refurbished ones at great prices.
Advanced Wideband Audio
Noise Cancelling Microphone
Up To 120 Metres Range Bluetooth – Pair To Your Mobile
Soundguard Technology
Looking for Call Centre Headsets?
Tech-Mag has constructed a highly researched and highly detailed guide on the Best Call Centre Headsets for 2017 – with honest and expert advice on what to look for, and what to avoid.
Find the guide here
Best headsets for Skype for Business was brought to you by Tech-Mag review experts.
Summary
Article Name
Best Skype for Business Headsets of 2017
Description
A guide on the best office or home headsets which are optimised for Skype for Business
Author
Publisher Name
Publisher Logo