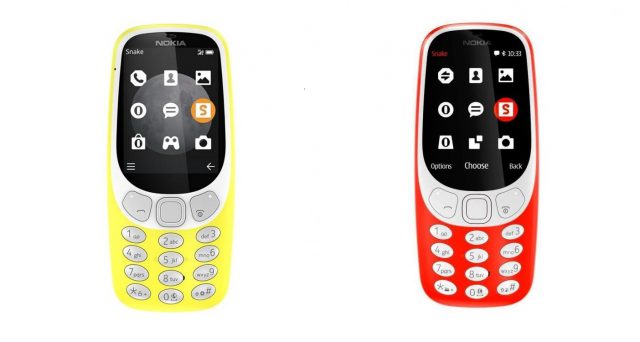 You may remember back in 2015 when PMC wrote about how Adele managed to reinvigorate the flip phone industry and made the once dated flip phones 'cool' again simply by featuring them in her music video for 'Hello'
Since then sales of flip phones have increased along with lots of other pieces and artefacts of retro life that people in today's modern world are turning to and spending their money on.
In the age in which old fashioned clothes, names and technology are all making a comeback there is one major name from the original golden era of mobile phones returning to our shops and it's giving us major 90's nostalgia. It is, of course, the Nokia 3310 mobile phone. Yes that's right the Nokia 3310 is back and we're very excited about it!
With the new iPhone models becoming bigger and bigger it's likely that the next one won't even be classed as 'mobile' anymore! And with limited pocket room in our jeans we're beginning to turn back to the smaller devices that started the life changing mobile phone industry. Though unlike the original Nokia mobile phones this new generation comes with a re-imagined and updated 2018 feel.
One of the standout features of the new Nokia 3310 models is the array of flashy colours the line comes in. Whether you opt for a cool black design or you want to make a statement with bright yellow, red or blue there are plenty of options to choose from.
I'd say the most inconvenient first world problem that comes with today's smartphones is the measly battery life of the average model. My iPhone doesn't last more than half a day without needing a top up which can be extremely impractical if you're out and about without a plug socket handy. In fact I had an incredibly millennial experience last weekend when my phone battery had died so I couldn't book an Uber or even call a taxi; if only I'd had the Nokia 3310 to phone a friend, my night wouldn't have ended so disastrously! It goes without saying that the Nokia battery will last for the entire day and can even be left on standby for up to a month; though going a day without checking your phone seems borderline barbaric.
Along with the updated colour schemes the Nokia 3310 also comes with a host of updated features including bluetooth, video recording and an MP3 player with a headphone jack so you can listen to your music on the go. Of course these are all features we've become used to having on our smartphones but to find them on a retro Nokia is pretty amazing!
If you're having a hard time thinking of letting go of the constant internet access that comes with a smartphone then you should take a look at the Nokia 3310 3G model with 3G connectivity ensuring that you stay connected to all your favourite websites and of course update your Instagram and Twitter pages. It's the perfect combination of old and new technology!
Oh…and one more thing. Did you think we forgot about the single most legendary feature of any Nokia device from the 90's?
Have you guessed it?
Yep…SNAKE IS BACK!
The classic, iconic, globally adored, family friendly mobile game is back and better than ever. With new updates the game is now even more enjoyable to play and I'm sure you'll be spending days trying to beat your old high score.
In fact I'm going to have to cut this short because I'm so close to beating my high score from 1999.