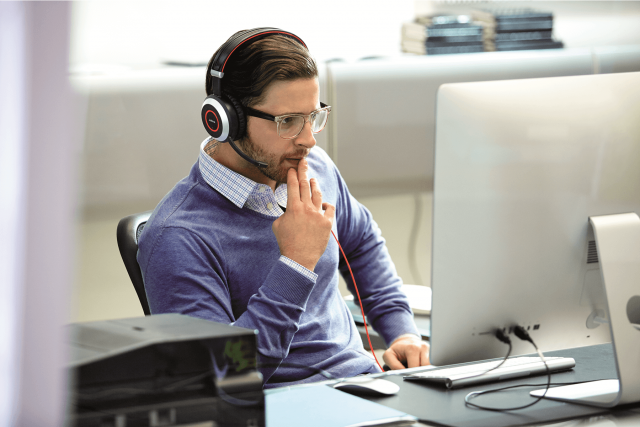 Our ultimate guide to the top noise cancelling headphones and headsets.
Tech-Mag reports on the best noise cancelling headphones for 2018. We tested around 100 headsets in 2017 for ourselves and our partners, and we wanted to give a definitive, unbiased run down of our findings.
A Quick look at the winners:
The Best Noise Cancelling Headsets 2018
| Winning Headsets | What's it good f or? | Price | Where To Buy |
| --- | --- | --- | --- |
| Jabra Biz 2400 II – The "ultra" noise cancelling headset | Office working/Conversation | £162 | PMC Telecom |
| Jabra Evolve 80 | Noise Cancelling cups/Mic, Music, Conversation | £216 | PMC Telecom |
| Bowers & Wilkins PX | Noise Cancelling Cups, Immersive Music | £329 | Amazon |
What are Noise Cancelling earphones?
It depends who you ask.
There are several types of noise cancelling features, and they vary wildly.
Consumer brands regularly advertise noise cancelling capabilities, but very rarely live up to the claim.
In addition, there are two categories of noise cancelling features: firstly for your ears when listening to music or making a phone call and secondly for the microphone when making calls; microphones can have noise cancelling technology as a built in feature.
Noise cancelling headphones can be costly due to the advanced technology used, so if you're going to be spending possibly hundreds of pounds don't you want to know exactly what you're buying?
We will get into our top picks shortly but let's first take a look at leading noise cancelling manufacturer Jabra, who have been working on Noise Cancelling (NC) technology for over 20 years. Here are the types of NC tech Jabra describes on their website along with a summary of how each works:
What is Passive Noise Cancellation? (Aka Passive noise isolation)
This refers to noise cancellation achieved by the headsets physical features such as its design, fit and materials used. It's a fancy phrase used to describe the feeling of wearing a headset, and drowning out any background noise through the physical features of the headset.
The caveat here is that any manufacturer can claim "noise cancelling technology" and refer to this specific type of NC. Meaning that you as the consumer need to have trust in the quality of the headset and the quality of the manufacturer; which is why you should stick to brands that have already proven themselves worthy of trust through high quality products.
We can confirm that Jabra is a great brand and the headsets they produce have PNC (Passive Noise Cancellation) which is very high quality. (I'm wearing a Jabra headset while writing this. OK we lied…this post is slightly biased, the Jabra Evolve series are my favourite headset by a huge margin – but with good reason!)
But beware: Tech-mag cannot guarantee the quality of any passive noise cancelling headphones, if you need good noise cancelling tech, we would recommend looking for the "active noise cancelling" variant below, or sticking with Jabra where you can be sure you will be getting a quality product.
What Is Active Noise Cancellation? (&how does it work?)
This is where NC gets interesting.
If you're wearing headphones on a plane, there are two types of sounds entering your ears. Firstly, there's whatever you've chosen to listen to on your shiny noise cancelling headset (let's assume it's Avril Lavigne's greatest hits) and secondly there's the drone of the engines, background noise, chatter, babies crying…
The absolute genius of real noise cancelling technology can get rid of the engine noises and the rest of the background noise without affecting your Avril Lavigne singalong. Further to this, you should also be able to listen to the music really quietly – yet still hear no background noise.
If you have never felt the magical sensation of putting on a headset and all background noise disappearing into silence then you haven't tried a real pair of NC headphones. You have tried the "passive" type, marketed as noise cancelling, sure, but it's not the same thing.
Sound is just compression and rarefaction of the air around us, like when you fire a pistol, it's just the air rippling through on longitudinal waves.
The engines of the aircraft produce a sound-wave of constant, or predictable amplitude (height of the peaks, depths of the roughs), and a constant wavelength of sound.
If we are able to produce sound exactly the opposite to this, you get something called anti-phase – which is silence; essentially you're adding sound to sound, which cancels out the original sound and makes silence, which is quite strange. As the listener you don't hear anti-phases the headset creates to cancel out the noise but you do benefit from the silence it creates for you.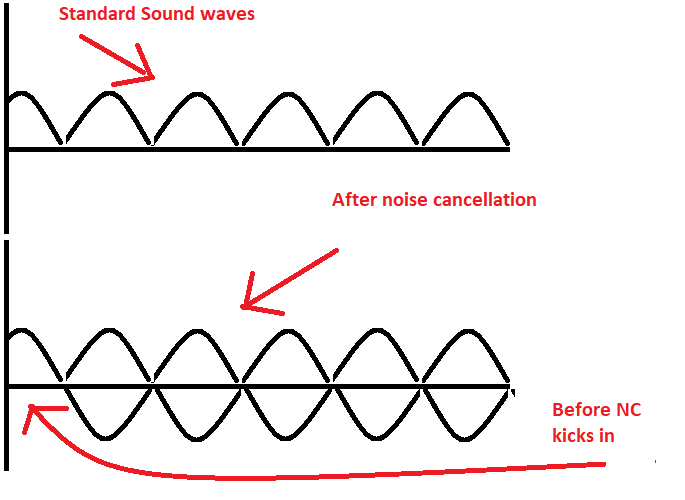 Good noise cancelling earphones achieve this by using high quality microphones to measure the sound around you and an advanced chip to listen to these noises and work out where the headset should put the anti-phases. This really does produce phenomenal sound quality.
Other applications of Noise cancelling
Noise cancelling technology actually isn't that new, it's been around a deceptively long time, but has only come to the mainstream now the technology is becoming affordable. It has other uses, which include:
Aviation (Since the 1950's) – Widely used in cockpits to drown out background noise (Wiki)
Sleeping Aids – There has been an increase in popularity of people using a pair of NC headphones to combat insomnia (Read more: Sleep Studies & Recommended headphones for sleeping)
Productivity – Intelligence workers have been investing more and more into good NC headphones, to help them concentrate
Any jobs with high background noise – There has also been a shift in people using NC headsets instead of ear muffs. Why not treat your workers to music instead of silence right?
In cars – This can be used to make your car engine quieter, for a nicer driving experience, or you can make your Nissan Micra sound like a Ferrari F50. Your call.
Our Picks – The Best Noise Cancelling Headsets Currently Available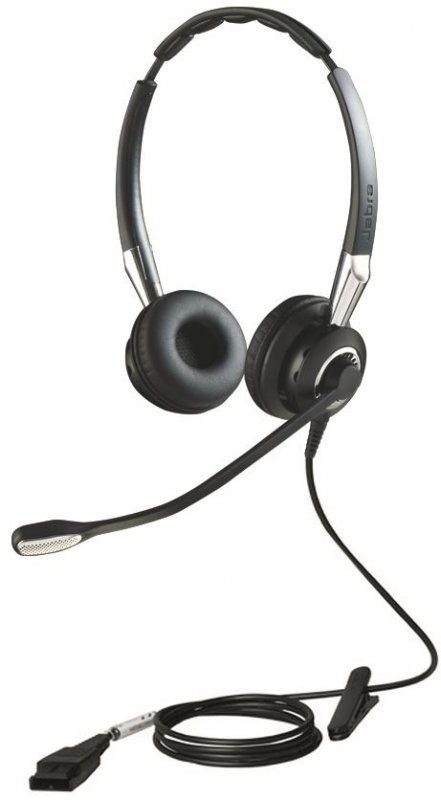 This is a headset based on one of their previous, highly successful models. It boasts impressive Passive Noise Cancellation on the earpieces, suitable for low – medium noise level environments.
The Mic is where it really excels, it is one of the industries best Microphones and provides absolutely excellent noise cancelling capabilities, ensuring the person you are speaking to will barely hear any background noise – if any.
In addition, this is the only office style headset to sport Kevlar enforced cords, gold plated contacts and an almost indestructible Mic that you can spin or twist in any direction – this headset is built to withstand hard use, and comes with a spare set of ear cushions. Finally it has a range of wearing styles (important if you use them a lot!)
The Best Headset for music & conversation around £200: Jabra Evolve 80
The Jabra 80 boasts an impressive ergonomic design providing Passive Noise Cancelling when switched off, and Active Noise Cancelling when switched on. Together this works in beautiful harmony to reduce background noise like you have never experienced.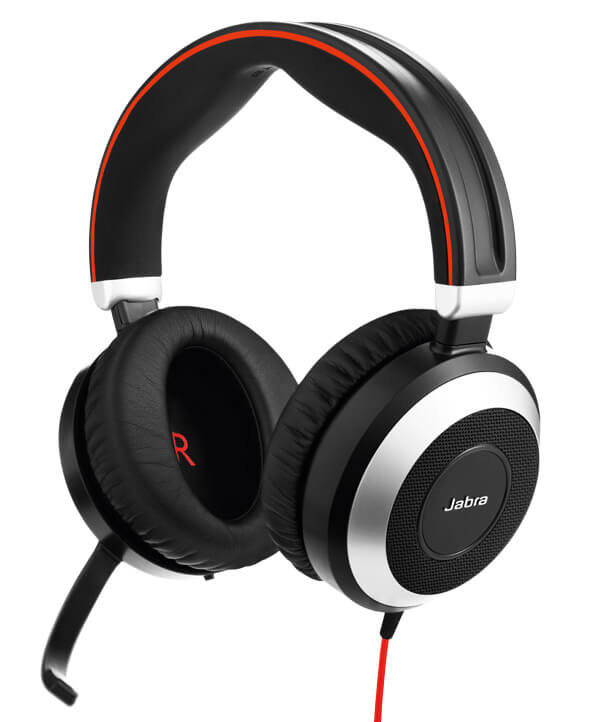 Combine this with the powerful Mic, which also has it's own noise cancelling chips and software, for an awesome audio experience for both you and the listener if you're using it to talk.
The Mic has all the features of the elite premium 2400, but comes with a carry case, a standard 3.5mm jack (or any connection cable) – this also snaps right into the band at the top magnetically so it's hidden from view when you don't need it. People are usually quite surprised if my phone rings in public and suddenly my headset produces a Mic out of nowhere.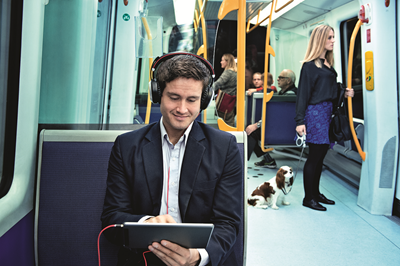 This is, as far as we are concerned, the best headset money can buy. There are more expensive ones, but nothing compares. Jabra built its business on quality headsets for business with noise cancelling technology as one of its primary features. It's no wonder they nailed this noise cancelling headset that can be used by anybody.
The best Ultimate Wireless Noise Cancelling headsets for Music: Bowers & Wilkins – PX
The PX combines incredible sound with very adaptive noise cancellation. These are the best headphones you can currently buy.
They don't have a snap back microphone, or any other mic which extends from either of the cans. These focus entirely on you, and the sound around you.
Controlling the PX feels intuitive, thanks to built in sensors. The headset "activates" when you put it on, and then starts dynamically adapting to the sound around you. Its a really intelligent piece of kit.
The build quality is fantastic too
22 hours battery life
Foldable, comes with carry case
Robust, Hard wearing ballistic nylon