Last night the Playstation 5 was announced online via a simultaneous grand online streamed event on YouTube & Twitch.
So what new information did we learn?
Games
GTA:5
Sony announced a whole bunch of games! The presentation started with a rerun of some of the PS4's greatest hits, before focusing on a longer cut of Grand Theft Auto 5, which did seem a little unusual, until it was announced that every Playstation 5 owner will receive a free copy of the game to play on their new console. Not a bad offer, and as an aside, quite extraordinary for a game to straddle three console generations, if you remember GTA5 was a PS3 title originally, before being upgraded for the PS4. It'll definitely be interesting to see what extra polish will be applied for PS5 owners.
Gran Turismo 7
Up next was Gran Turismo 7 which looked absolutely glorious. For racing fans the GT series has always been a staple title to go to with super accurate renders of all the well known cars and motorsport brands.
Ratchet & Clank – Rift Apart
The next game in the series looked seriously impressive with beautiful particle effects and a multi-dimensional theme allowing the main characters to switch between time and space as they fight, this definitely looked impressive.
Marvel's Spider-Man: Miles Morales
Based upon the characters from the acclaimed Spider-Man film: Into the Spiderverse, the player is taking control of Miles Morales. We only got to see a short into clip from this, but one assumes it will be based on the same albeit improved engine and gameplay themes we saw in the Amazing Spider-Man game on the PS4.
Horizon: Forbidden West
Deathloop
Resident Evil 8: Village
Stray
Little Devil Inside
Oddworld: Soulstorm
Godfall
Pragmata
Kena: Bridge of the Spirits
Hitman 3
Solar Ash
Project Athia
Demon Souls
Returnal
Jett: The Far Shore
GhostWire: Tokyo
Sackboy A Big Adventure
Destruction Allstars
NBA 2K21
Bugsnax
Goodbye Volcano High
Astro's Playroom
This will be a free, bundled game to show off some of the capabilities of the new PS4 controller.
Hardware
The hardware reveal at the end of the video was a dramatic afair with a beautifully rendered wave of small plastic balls undulating in time with the sleek pulsating soundtrack. Fade to black. Show a dash of blue from the LED's and reveal….
See for yourself!
So what can we see?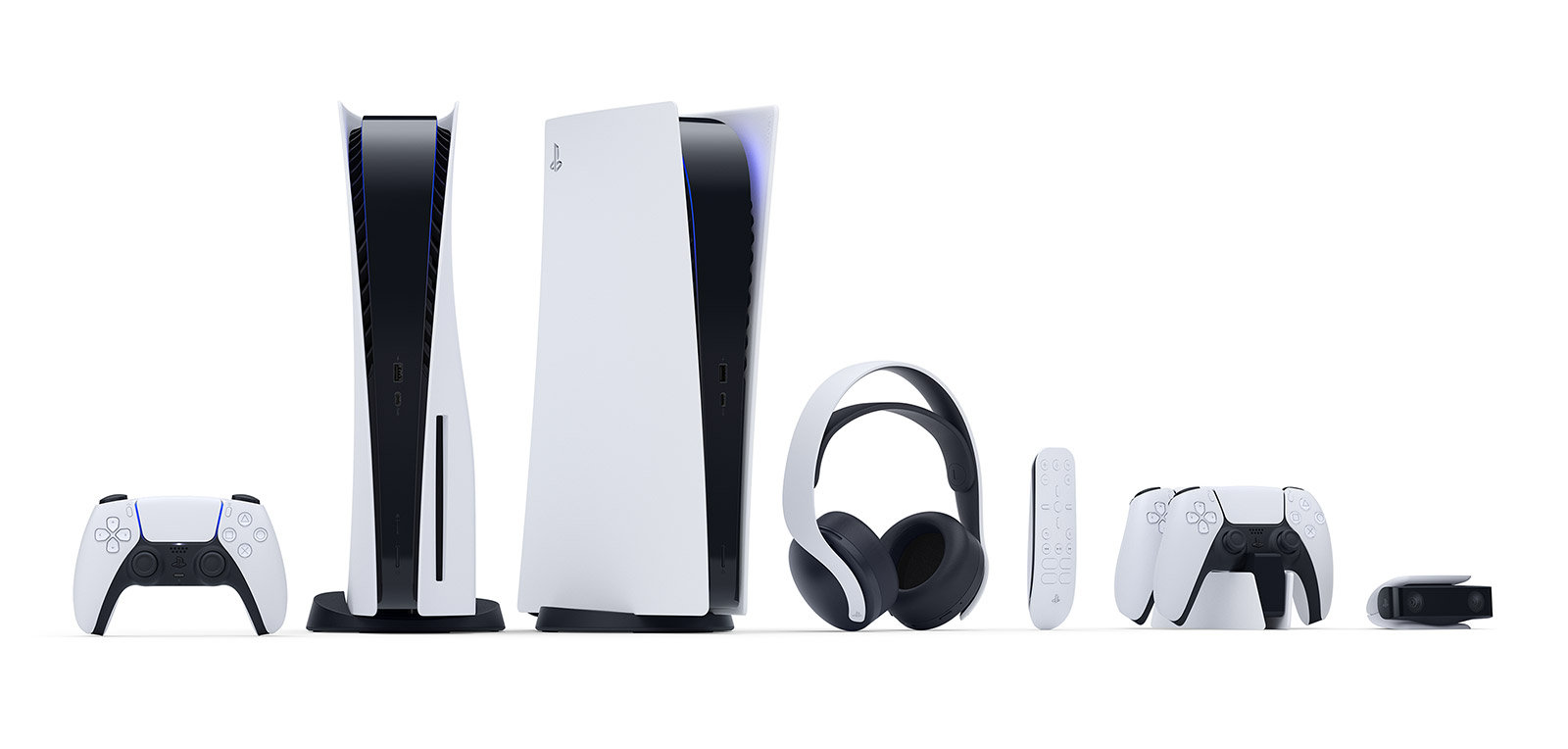 It looks like there's going to be two versions, a digital only version and a Blue Ray version which has the Blue Ray Drive built-in.
The console itself does look to be rather large in comparison with its predecessor, but there is a lot of extra power under that hood and no doubt more space needed for air-flow.
White fins sandwich a black box to make an overall package that wouldn't look out of place in a StarWars Stormtrooper's apartment.
USB-C is thankfully built in as standard to take care of ultra-fast charging, but we couldn't see the outputs on the back so we're not sure if we have HDMI and/or Display Port. We'll have to wait for Sony to release the full specifications to know more for sure.
There were a few extra peripherals on show, including, charging cradles for the controllers, along with officially branded headphones and the branded camera to go along as well.
If you're interested in watching the whole 1h15m presentation as it was shown, you can see it here.
What did you think of Sony's efforts; are you impressed?