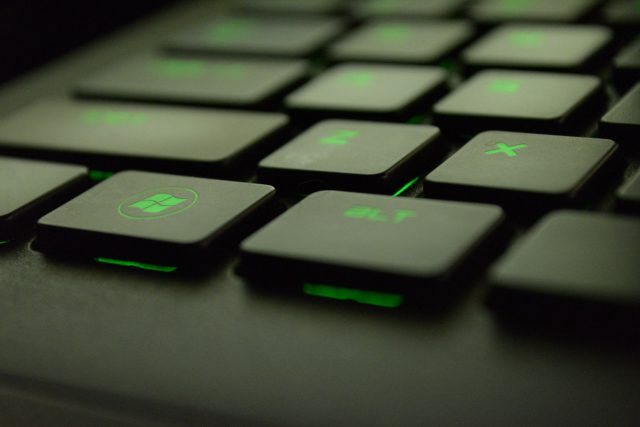 Study finds gamer attitudes on Twitter are overwhelmingly positive
33% of all tweets about gaming in the past three years came from females
Minecraft (+190%), Mario Kart (+95%) and Warcraft (+13%) all saw their popularity on Twitter increase in 2016, while FIFA, Grand Theft Auto and Call of Duty all saw decreases.
Tekken was the most tweeted game in the UK in 2017 with 1.9 million tweets.
The UK gaming industry is booming. Worth a record £4.33 billion in 2016, experts estimate the industry will grow by an impressive 7.8% by the end of 2017.
Currys PC World took a closer look into the UK gaming scene, to delve deeper into the industry's rise in popularity. Using the YouGov Profiles tool, which gathers data on over 330,000 GB citizens, Google Trends data and a Twitter scrape, the retailer uncovered some fascinating insights about gamers, how they interact on social media, and new industry growth trends.
Female dominance on the rise
Despite an inherent industry bias andy controversies such as #GamerGate, female gamers have not shied away on Twitter. In fact, female gamers dominate 33% of all tweets about gaming in the UK.
Data from YouGov found an emerging demographic of older female gamers that use smartphones, tablets and Windows-based PCs for the majority of their gaming. Mobile gamers have been one of the fastest growing demographics within the industry, with the sector wielding as much power as console and PC games.
While YouGov data shows older female gamers are passionate gamers, it's the younger female gamers who are more prolific on social media, and enjoy playing console games such as Minecraft, Tekken and Warcraft.
Console games such as Minecraft and Tekken, which boast the highest proportion of female audiences (38% and 34% respectively), have risen in dominance when it comes to people tweeting about them. While Minecraft saw a 190% increase in tweets in 2016, Tekken received 1.9 million tweets in 2017 – a 135% increase from the year before.
Why gaming is good for you
While many may think of gamers as couch potatoes, older female gamers are increasingly citing health benefits as one reason they play games. Countless studies have looked into the benefits of gaming.
A 2017 meta-analysis of these studies found that video games can improve memory, focus and attention, as well as increase spatial awareness and navigational skills.
On Twitter, users that post about games are much more likely to be happy, positive and encouraging when posting on the site. Looking into the Twitter activity of avid gamers, users are overwhelmingly positive, with a sentiment analysis showing that only 19% of tweets had a negative tone.
Retro returns in Mario Kart and Pac-Man
The enduring appeal of retro games such as Mario Kart and Pac-Man is reflected on Twitter, where the games had a collective total of 1.5 million tweets in the UK over the past three years.
Mario Kart's biggest audience weren't even born when it was first released in 1992. The go-kart-style racing game's largest user base on Twitter are aged 17 and below (34%). Mario Kart's second biggest audience is aged 35 and above (28%).
Released in 1980, Pac-Man has the second highest number of Google searches out of the ten games, with 301,000 searches per month. Created specifically to cater to female gamers, it also has the third highest percentage of female tweeters.
---
Editors Rant: In my experience females have always been equally as welcome as their male counterparts in competitive gaming. This is based on my experience of WoW, CS:Source & SSBM.
This unfortunately can't be said for non-competitive gaming where I believe games companies and gaming communities are responsible for the way they market their games and the way they conduct their public expos.
The video above (Adam Ruins Everything: Why people think video games are just for boys) goes a long way to explain how the divide between genders & gaming started, but it doesn't show where game developers are going wrong today.
Go to any community run event (example: http://teamheir.com/) and you will be hard pressed to find any evidence of sexual bias.
The same can't be said for larger, promoted events from gaming/gaming related companies, look at this image: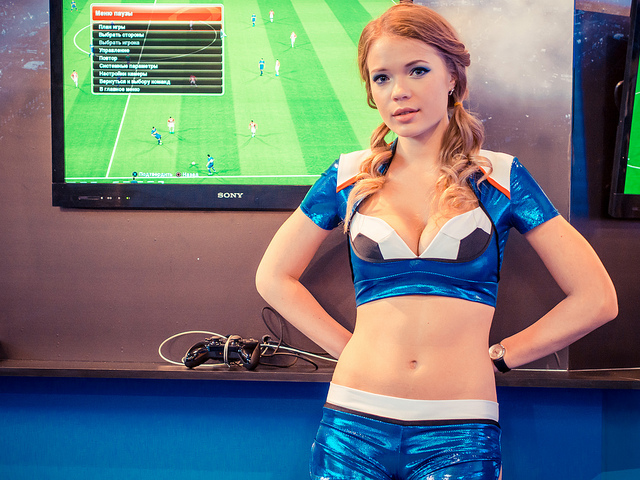 Image credit: Flickr
You tell me which gender this is aimed at.
This isn't even uncommon, Intel, Nvidia, EA all do this. There really is no need and I feel it can really alienate some people.
Game companies need to be welcoming to both genders, and the ironic thing is if they concentrate on good content and helping their communities, they will likely find their stands more colourful than ever (Think Cosplay)
---
This post was written in collaboration with "Dixons Carphone" – we never take payment for content and always publish on how interesting/relevant the content is.
However that being said, if Dixons DO want to contribute, or any of our readers, here is the link to Gaming For Good:
gamingforgood.net and Save The Children
Some info I was asked to include (and will as I'm including links to charity ! ) :
Dixons Carphone plc is Europe's leading specialist electrical and telecommunications retailer and services company, employing over 41,000 people in nine countries.
Focused on helping customers navigate the connected world, Dixons Carphone offers a comprehensive range of electrical and mobile products, connectivity and expert after-sales services from the Geek Squad and Team Knowhow.
Dixons Carphone's primary brands include Carphone Warehouse and CurrysPCWorld in the UK & Ireland, Elkjøp, Elkjøp Phonehouse, Elgiganten, Elgiganten Phone House, Gigantti and Lefdal in the Nordic countries, Kotsovolos in Greece, Dixons Travel in a number of UK airports as well as Dublin and Oslo. Our key service brands include Team Knowhow in the UK, Ireland and the Nordics, and Geek Squad in the UK & Ireland.
Business-to-business (B2B) services are provided through Connected World Services, CurrysPCWorld Business and Carphone Warehouse Business. Connected World Services aims to leverage the Group's existing expertise, operating processes and technology to provide a range of services to businesses.