Why the Plantronics CS540 Wireless Headset is a business favourite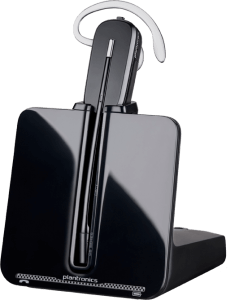 Plantronics CS540 cordless headset is the wireless headset replacement of the globally-recognised Plantronics CS55 and Plantronics CS50… it's lighter, newer and carries more features than before, without anything too unusual or outstanding to take you by surprise. The CS540 is perfect in its simplicity and efficiency, perhaps leading it to the top of the shopping list for so many businesses.
The CS540 has been dubbed the winner of office headsets for UK businesses – so we decided to call on our experts to put it to the test and find it just what is leading its popularity, and what competitors are out there.
CS540 Headset Key Features
Firstly – this model prides itself on being lighter. Weighing in at just 21 grams, the CS540 features the lightest DECT headset on the market. According to American Doctor Duncan McDougall who tried to weigh the human soul, he believed it came in at exactly 21 grams. While we wonder where he got that from, perhaps it helps give you an idea of how light this headset is.
As well as it's lightweight design, the CS540 is better in other ways too. With an increased range for maximum mobility, one-touch controls, energy efficient power management, simple plug-and-talk installation, it's already proving itself as a top competitor.
Key features of the CS540 Headset
Walk and talk up to 350 feet away from your desk
Up to 7 hours of continuous talk time
Optional wideband frequency offers a fuller, more robust call quality
Customised fit which allows you to wear the headset over-the-head or in-the-ear. Both styles are adjustable for comfort.
Noise-canceling microphone cuts out a huge part of office background noise
64-bit digitally-encrypted signal. Nobody can listen in on your calls
Our experts were keen on the fact that you can go mobile and multi-task up to 350 feet from your desk. Plus, no matter what your preference, with two wearing choices supplied there's one to match your personal style. (Optional neckband available)
The Plantronics CS540 headset also has premium wideband audio quality as well as wireless mobility, all with the same reliability for hands-free productivity that has made the CS family such a popular choice for so many years.
The CS540 also has the ability to conference up to three users on the same line, which, depending on your business needs, could be a deal breaker for an office headset.

As suspected, competing headsets for the Plantronics CS540 are aplenty – and they are giants competing giants.
CS540 Headset – In the box:
Charging base
Headband
Power adaptor and connector cable
Earloops and earbuds
Manual
Buy the Plantronics Poly CS540 today
Plantronics CS540 – Alternatives
Jabra, for example, has the Jabra Pro 920 monaural and binaural range which give the CS540 a run for its money in terms of lightweight simplicity. Jabra being one of the largest headset providers in the county and certainly one of the most successful – is stands shoulder to shoulder with plantronics on some of it's designs, arguably including this one.