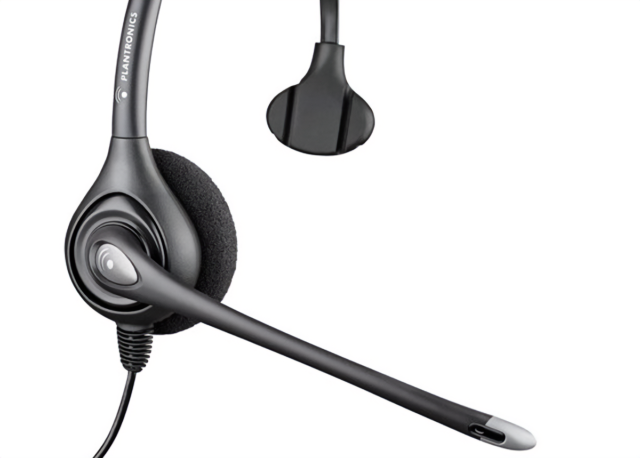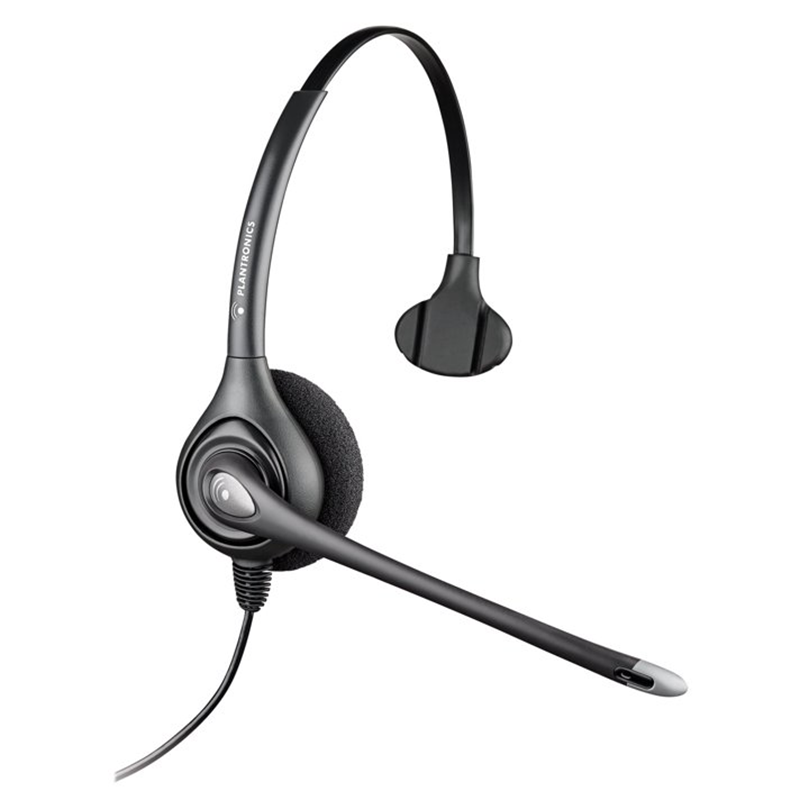 Plantronics HW251N Review – Corded Headset Review
The HW251N headset is one of the more popular choices for busy workplaces such as call centres. This model delivers a fantastic noise cancelling microphone – essentially meaning that the mic is intelligent enough to pick up when there's background noise going on (ie, a busy office or contact centre) and block it out, so that the person you're speaking to only hears the crystal clear, crisp sound of your voice.
The Plantronics HW151N is the basic but efficient, entry level, noise cancelling headset
This Plantronics favourite is also known for it's sturdy physique, which can withstand being knocked around. It's a very sturdy headset as well, so in a call centre environment or busy office, it can frankly get knocked around and not break.
With this being a single-ear Monaural headset, it is possible to flip the microphone booom-arm 180 degrees so that the user can wear the earpiece on the left, or the right ear to their preference.
The HW251 features Active Noise Cancellation – a microphone in the earpiece that picks up ambient noise (such as traffic, air-handling systems, etc.) and attempts to cancel that out of the transmitted noice in the microphone to the recipient caller.
Key features of the Plantronics HW251N headset
Single-Ear design—headset speaker covers only 1 ear
Noise-canceling microphone cuts 60-70% of background noise
Quick Disconnect cord—leave your headset on while you walk away from your desk
All-day wearing comfort and reliability
Supports all Plantronics amplifiers and USB-to-headset adapters
Designed for the most demanding environments
Where can I buy the Plantronics HW251N?
Note, the Plantronics HW251 is now only available as refurbished.
Note about refurbished headsets
Refurbished headsets are meticulously tested to be in perfect working order, then cleaned and sanitised fully. 
All replacable parts (foam ear cushions, voice tubes etc) are exchanged for new parts.
---
I need a binaural – two eared version of this headset. What are my options?
You may well prefer, in a very noisy environment, to have a binaural headset which covers both ears and blocks out the background noise to a maximum, in which case you'd be better to check out the binaural version of the HW251N; the Plantronics HW261N.This is essentially the exact same headset as the monaural option but with two ear pieces. Though many prefer to have just one ear covered, especially when part of your communication is to talk with those around you as well as on the phone.
---
Are there any good alternatives to the Plantronics HW251N ?
For a similar model from a different brand, Project Telecom make a range of monaural and binaural office headsets which are arguably just as efficient and easy to use.
The Project Telecom 102 corded headset is a monaural noise cancelling office headset with similar build and sound quality as the Plantronics. Similarly to the Plantronics designs, Project Telecom has two models available with otherwise the same spec, for one ear or two – their Project Telecom 202 headet being the Binaural version – both headsets sporting noise cancelling microphones.
---
Summary
Reviewer
Review Date
Reviewed Item
Author Rating





Product Name
Plantronics HW251N Corded Office Headset
Price
Product Availability